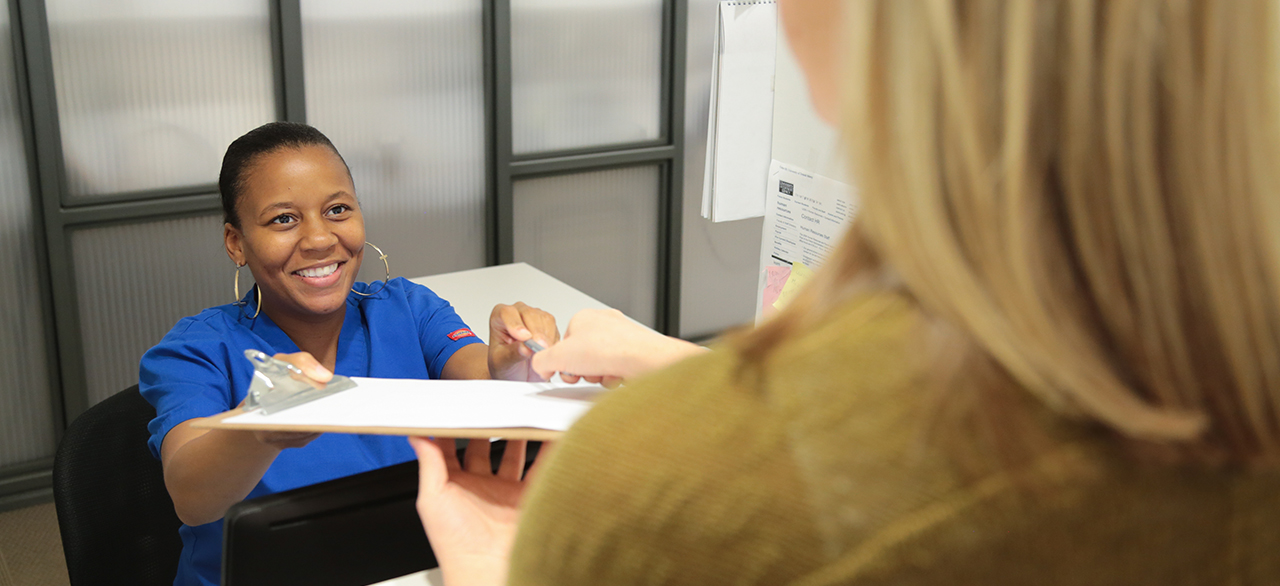 Our faculty, staff, and students are committed to providing comprehensive, patient-centered care. Please review the following information to become a patient as part of our student clinical program at Detroit Mercy Dental Center.  Available services include:
Exams, x-rays, cleanings, fillings, crowns, bridges, dentures
Cosmetic dentistry, tooth whitening, veneers
Periodontic (gum) treatment
Dental Hygiene services
Implant placement, implant restoration
Root canal treatment
TMJ/TMD, oral surgery, extractions, oral lesions, biopsies
Pediatric care, and more!
Schedule a Screening:
Call 313-494-6700 to schedule a screening appointment at either location:
Corktown Campus - University of Detroit Mercy School of Dentistry
University Health Center located within Detroit Receiving Hospital; please note there is a nominal fee for parking at this location
Cancellation Policy
If you must cancel an appointment, we ask you provide a minimum of 48 hours advanced notice.  Less than 48 hour notice is considered a failed appointment; two failed appointments may result in dismissal from the student clinical program.  
Should you need to cancel or reschedule your appointment, please call: 313-494-6700
Your First Visit:
Your first visit will consist of a screening appointment to determine the level of difficulty of your case. On your appointment day, please remember to bring the following items with you:
Photo identification; we are unable to see patients without this
Dental insurance information, including your insurance card
Recent x-rays, if available
A list of ALL current medications and dosage
If you are under the care of a physician, please bring the name and address of your physician
There is no charge for the screening appointment; should you need x-rays, there is a minimum $60 charge

Once the patient is accepted into the student clinic, a comprehensive exam will be performed.  Payment for the exam is required at the first visit, which is $30.
Please note: not everyone is accepted as part of our student program for dental care.  If you are not, you will receive information to help you find a dentist.
 

Patient Responsibilities

Please read the following information carefully so that you understand what you are agreeing to by becoming a patient or allowing another person for whom you, as a parent or guardian, are responsible, to become a patient at the School of Dentistry at the University of Detroit Mercy.

All persons cannot be accepted as patients at Detroit Mercy Dental Center because some dental and/or medical conditions may be too difficult for the students, or the waiting list for care is too long and care cannot be provided in a timely manner.
Emergency treatments are given ONLY to relieve severe discomfort. A fee will be charged for emergency care. Treatment, especially for the relief of pain or discomfort, does not mean that the school will provide a commitment to the patient.
Patient care at the dental clinic takes much longer than it does in private practice, so be prepared for multiple visits. Patients must be available a minimum of two times per month for appointments that can last up to three hours each.
Because students have limited time available to provide care, patients must be on time for all appointments. Detroit Mercy Dental Center reserves the right to reschedule an appointment if the patient is more than 15 minutes late, depending on the planned treatment. Cancellations generally require a two-day notice.
A parent or guardian must remain in the clinic building during the treatment of a minor child under the age of 18. Children cannot be left unattended in the lobby or brought into the clinical areas. Detroit Mercy Dental Center has the right to reschedule/cancel an appointment if no parent/legal guardian is with the child or a child(ren) is left unattended.
Detroit Mercy Dental Center has the right, at any time, to decline for teaching or other reasons to continue treating a patient. In such cases, the patient or parent or other person (guardian) in charge of the patient agrees to be totally responsible for obtaining other professional dental care for the patient. A letter will be sent informing the patient if treatment is going to be discontinued.
Detroit Mercy Dental Center reserves the right to discontinue treatment for excessive tardiness, two or more failed or cancelled appointments (with less than 48 hours notice), and/or inappropriate behavior .
The patient or parent/legal guardian agrees to notify Detroit Mercy Dental Center in the event there is a change in insurance coverage, address, telephone number, and/or medical history.
The patient or parent/legal guardian agrees to be personally responsible for paying fees at the end of each appointment. Except for Orthodontic treatment, payment is due in full at each appointment. Detroit Mercy Dental Center reserves the right to increase fees at any time.
As a courtesy, Detroit Mercy Dental Center will bill insurance ONLY with the understanding that the patient or parent/legal guardian is responsible for payment if payment does not occur by the third party. The patient or parent/legal guardian is responsible for all co-pays and deductibles and if insurance/other third party does not make payment.
Every effort is made to ensure the treatment provided meets or exceeds standards of care. As in all dental procedures there are some potential risks, similar to those in a private dentist's office, and no guarantees. Risks may include allergic reactions, accidental cuts, abrasions, etc.
The patient has the responsibility to ask questions when any aspect of treatment or financial obligations is not clearly understood.